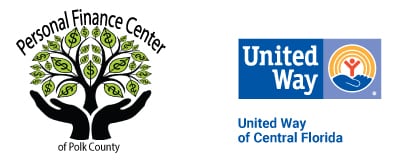 Do you need help in educating yourself in personal finance? How do you budget? How do you save money? How do you restore your credit? How do you make a financial plan and stick to it?
United Way of Central Florida and Personal Finance Center of Polk County are partnering up and having FREE classes to educate you on how you can become financially fit.
Upcoming Classes (date and time):

All classes will be held at
109 N. Kentucky Ave
Lakeland, FL 33801

July 9, 2019 – 6 pm
July 16, 2019 – 6 pm
July 23, 2019 – 6 pm
July 30, 2019 – 6 pm
*Dinner will be served on all days.
Personal Finance Center of Polk County also offers:
– Savings Account Incentive
– Credit Restoration
– Budgeting Assistance
– Debt Counseling
– Credentialing Assistance
– Education Assistance
– Home Buying Assistance
– Business Start-up Assistance
– Tax Preparation
To register, contact Jennifer Olivas at 863.425.1523 or via e-mail at jenniferpfcpc@gmail.com