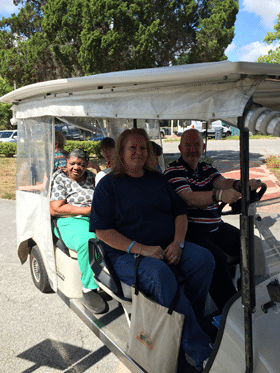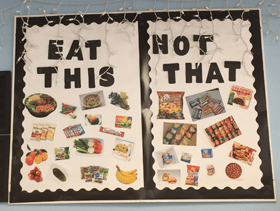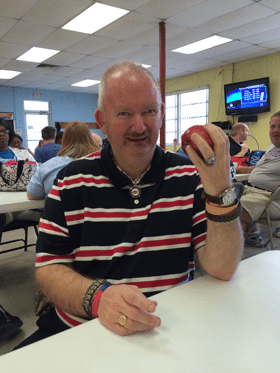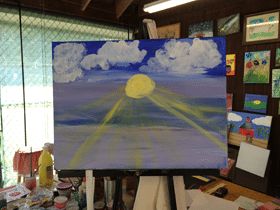 Healthy Choices & Opportunity to Work Improve Life for 40 Year-Old with Disability
United Way Solutions Improving People's Health and Vitality 
Michael is a 40 year-old man who lives with an intellectual disability. A daunting life challenge for most of us to comprehend, and yet, Michael approaches it with an amazing positive spirit. He's warm, generous and creative. He enjoys painting and watching sports. He's an avid Gators fan and loves professional wrestling. Michael enjoys spending time with his friends, having a variety of conversations and visiting with his mom.
Because of United Way funds, Michael and others with disabilities are learning a variety of ways and means to stay healthy and vibrant. They have unique opportunities to learn how to garden, how to cook, paint, and safely surf the internet and attend classes online. Incredibly, some have learned a trade and work to earn their own money. They sew garmets and other useful items, weld and organize documents for business.
Michael enjoys painting and he's a talented artist. He recently sold two (2) of his paintings at the Tai' Cho Gallery in Bartow.
He works as a golf cart driver, transporting those who have trouble getting around to various activities on campus. He has learned how to safely load and unload passengers, learned road safety and traffic laws and is using the opportunity to study for his driver's license. Unfortunately, due to his work transporting others throughout the day, his doesn't get much exercise. This, together with a love of fast food and soda, caused Michael to gain a significant amount of weight.
Over time, a variety of stressful living circumstances also took a toll on Michael's health.
His blood pressure had slowly risen above normal and he was now diagnosed as borderline diabetic. When the scale hit 179lbs, Michael had enough. He made the decision to start living a more healthy lifestyle on several fronts.
With the help of staff on campus, he set goals for himself to lose weight and eat healthy. He joined the AFI Biggest Loser program and started to learn skills necessary to achieve his goals. He now exercises more by walking at home and whenever he can steal a few minutes throughout the day. One of the most important things he discovered is that he doesn't need to give up eating, he just needs to make healthier choices.  He now trades soda for water, sandwiches for salad –and he learned recently that Burger King makes a veggie burger!
Michael has learned that eating healthy is more than satisfying, as evident from the comforting smile as he shares that his favorite healthy foods are salads, apples, oranges and pineapple.
providing solutions that strengthen communities
United Way funds services to improve people's health | 17,227 adults & children served in 2014
United Way clients
Reduce ER Visits
Reduce Body Mass
Improve Blood Sugar
Improve Blood Pressure & more
Driving the change

Access to Prescriptions
Treatment for Substance Abuse
Treatment for Mental Health & Disabilities
Treatment for Diabetes, Hypertension, Obesity and more
Nutrition, Exercise and Healthy Habits Classes
Great things happen when we live united.