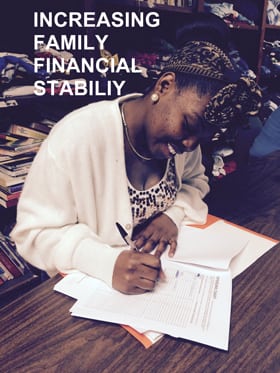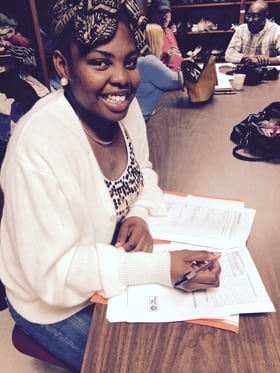 Small Spending Changes Create a Brighter Future for Single Mother
All families can save. Some don't know where to start. 
Challenged with crushing medical debt and childcare, Monika, a 26 year-old single mother of two, was suddently faced with an even bigger challenge –a broken down vehicle and the reality she needed a new car. She was suddenly without transportation, struggling to get the kids to school and herself to work, in order to feed and nurture her family. Monika had no savings and no plan. In the months following, we found out what Monika did have– it was a willingness to create a better life for herself and her family and the determination to make that happen.
United Way funded services provided job search support that helped Monika land a part-time position at Publix and she set a goal to earn a full-time position in the Publix Bakery. She continued to prove herself a hard worker. She used public transporation and help from a friend for a while. At the same time, she began tracking her daily expenses and learned how to make small changes to what she was spending each week. After just a few weeks in a Financial Fitness program, Monika has learned more about banking, interest, loans and credit repair. She says her favorite aspect has been "using the Spending Log, I can see what I do with my money and I'm creating a savings plan that works with my income." She purchases clothing on clearance now and teaches her son to save and consider his options before purchasing those Nike sneakers he wants.
For the first time in her life Monika has saved over $450. She's inspired by her progress and plans to keep saving to create a brighter future. She has goals to improve her credit, own her own home. Today, Monika is achieving her dreams of greater financial stability. She saves at least $25 per paycheck and is looking to save even more in the near future. Through hard work, she landed that full-time job at Publix and is now up for a promotion. Monika beams a smile that lights up the room as she explains the pride felt as a Publix Associate–so grateful to be part of the Publix team, proudly supporting their corporate culture of giving –Monika is also proud of herself for achieving a better position and the ability to purchase more Publix stock.
providing solutions that stregthen communities
United Way funds services to improve family financial stability |  2,805 families & 6,091 children served in 2017
United Way clients
Reduce Debt
Improve Credit Scores
Live on Budgets
Create Savings
Driving the change

Free Tax Preparation
Money Mentors
Credit and Budgeting Classes
Financial Education for Kids
Savings Match Program
Great things happen when we live united.