Halloween Safety Tips

for Trick-or-Treating
Let's embark on a journey together to discover the tricks and treats of a safe Halloween, because after all, the only scares we want on Halloween are the ones that come from behind a well-carved pumpkin or a spooky ghost story, not from preventable accidents or hazards. 
In this blog post, we'll walk you through a series of safety tips and tricks to ensure your children have a spook-tacular but secure Halloween experience. 
Here are a few safety tips to consider if you're trick-or-treating this year: 
Pick Safe Costumes 
Decorate costumes and bags with reflective tape or stickers and, if possible, choose light colors.




Amazon- Reflective Tape

 

 
Stay Alert! Be Aware of Your Surroundings 
Always stay together in groups; it's easier for multiple adults to keep up with all the kids.

 
Remain on well-lit streets and always walk on sidewalks or paths. If there are no sidewalks, walk facing traffic as far to the left as possible.
Avoid crossing the street or cross the street at corners, using traffic signals and crosswalks, and be sure to WALK, not run!

A Quick Reminder about our ALICE (Asset Limited, Income Constrained, Employed) population: 
Some kids may not be in costume. Don't comment on how they're dressed. Some children come from ALICE families that live on tight budgets and may not have the time or money to invest in a costume.
Don't comment on their age. Older kids want to enjoy the holiday, too – and candy might be a rare treat.
A Fun Event for You and Your Family This Halloween: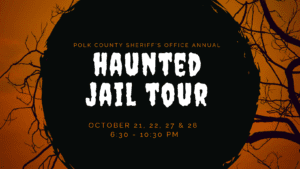 HAUNTED JAIL TOUR 
Back by popular demand is the Polk County Sheriff's Office's annual Haunted Jail Tour! Located at 455 North Broadway in Bartow (the Lawrence W. Crow, Jr. building). 
This year's spooky theme is RESURRECTED. You won't want to miss it! 
For a $15.00 donation (per adult) to the United Way of Central Florida, you can take the haunted tour, and children under 10 years old can tour for just $5.00. But if you think the tour will be too scary for your little ones, don't worry – we will have PCSO members there volunteering to watch your kids in a safe place while you tour. 
This is a family friendly kid-oriented event! We're shutting down Church Street for a street carnival, with arts & crafts booths, a dunk tank, bounce houses, and fun for the entire family. If being scared makes you hungry or thirsty – no problem! The Newman BBQ food truck will be there selling delicious refreshments. 
The Haunted Jail Tour will be running 4 nights, from 6:30 p.m. to 10:30 p.m. – Friday & Saturday, October 20th and 21st, and Friday & Saturday, October 27th and 28th. 
We hope everyone has a fun and safe Halloween!