Polk County Public Schools Appreciation Event
We gathered recently to thank one of our top supporters of United Way of Central Florida: Polk County Public Schools! Held at the Junior League Sorosis building, this event featured a reception and the presentation of ten awards.
And the awards winners are…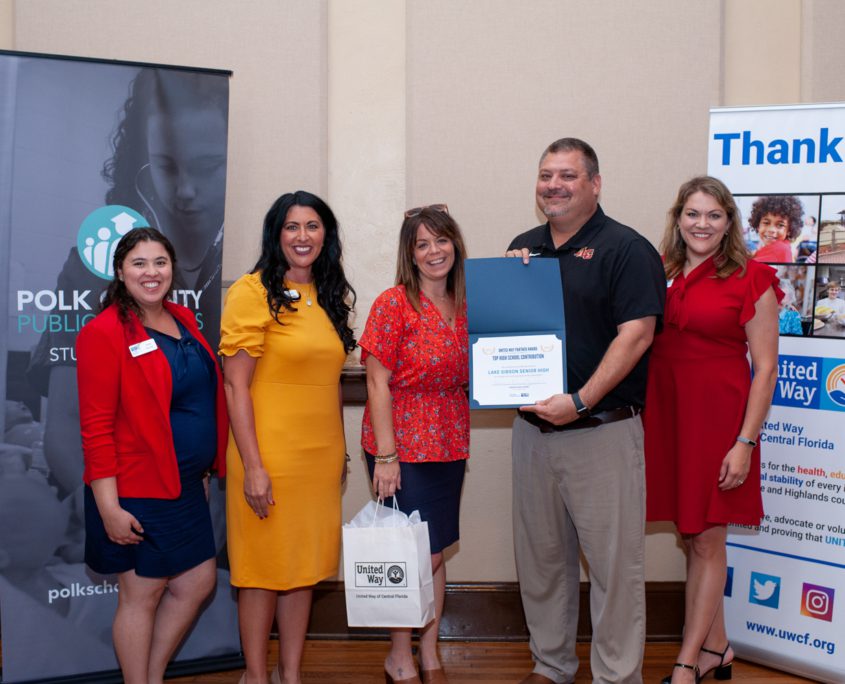 Top High School Contributor: Lake Gibson High School with $3,176
Pictured: Melinda Diaz & Ryan Vann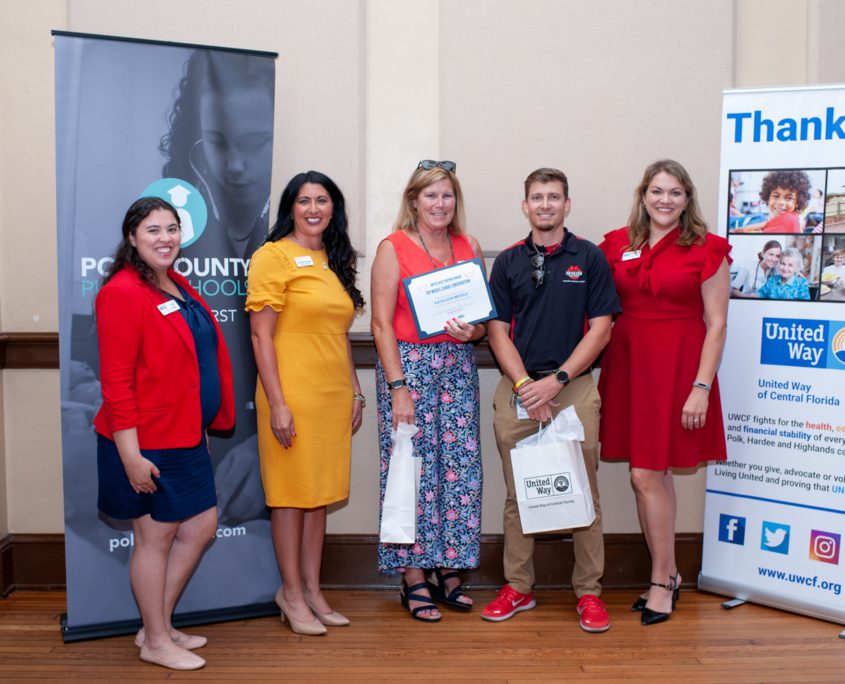 Top Middle School Contributor: Kathleen Middle School with $1,680.28
Pictured: Sheila Gregory & William Lay
Top Elementary School Contributor: Spessard L. Holland Elementary with $5,613.30
Pictured: Melody Butler & Luis Rios
Not only did they win Top Contributor for Elementary School, but they also are the highest contributor over all.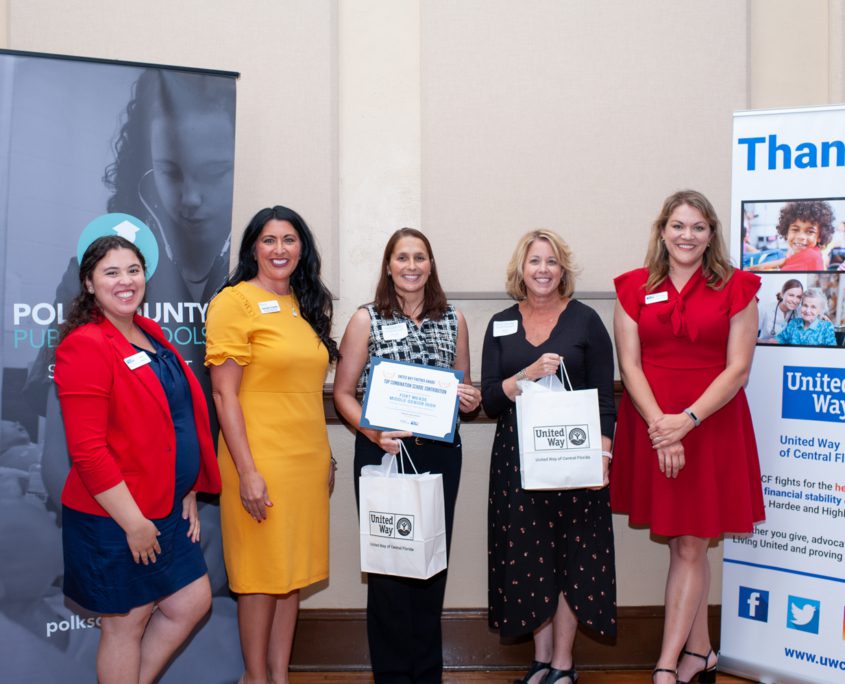 Top Combination School Contributor: Fort Meade Middle-Senior High School with $4,053.15
Pictured: Angie Story & Amy Hardee
Top Department Contributor: Public Relations & Strategic Partnerships with $2,888.06
Pictured: Jason Geary & Jeanette Crowley
Highest Contribution Percentage Increase between all schools and departments: Federal Programs-Title I with an 812% increase
Pictured: Karen Ojeda Rodriguez, Melissa Northup & Aly Dort
Highest Percentage of Participation: Lewis Anna Woodbury Elementary with 63% (17 of 27)
Pictured: Leslie Belcher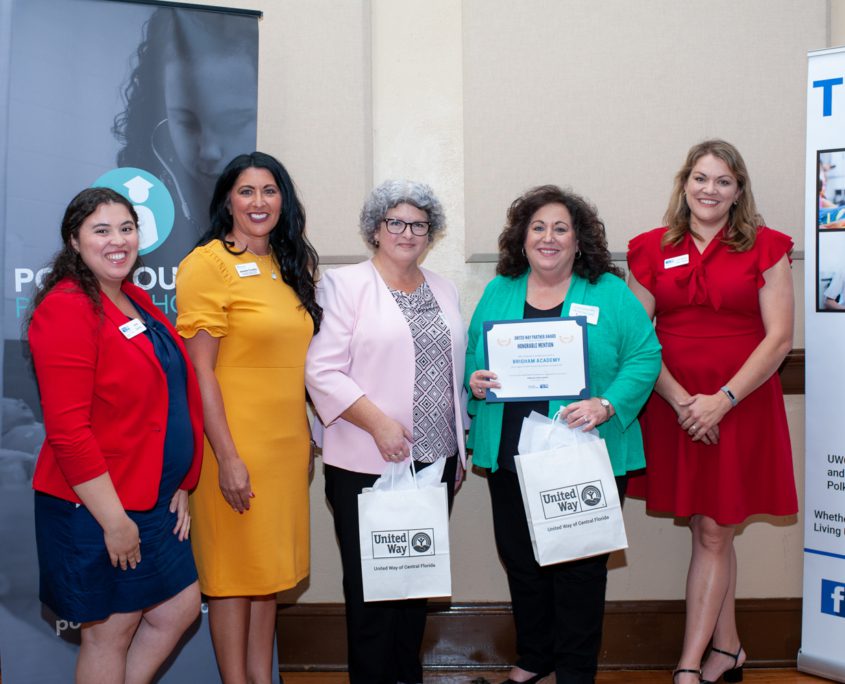 Honorable Mention: Brigham Academy
Pictured: Penny Lundquist & Lynn Boland
This school is in second place in overall fundraising efforts. With only $524 less than Spessard L. Holland…Brigham Academy raised $5,089 with only 61 employees.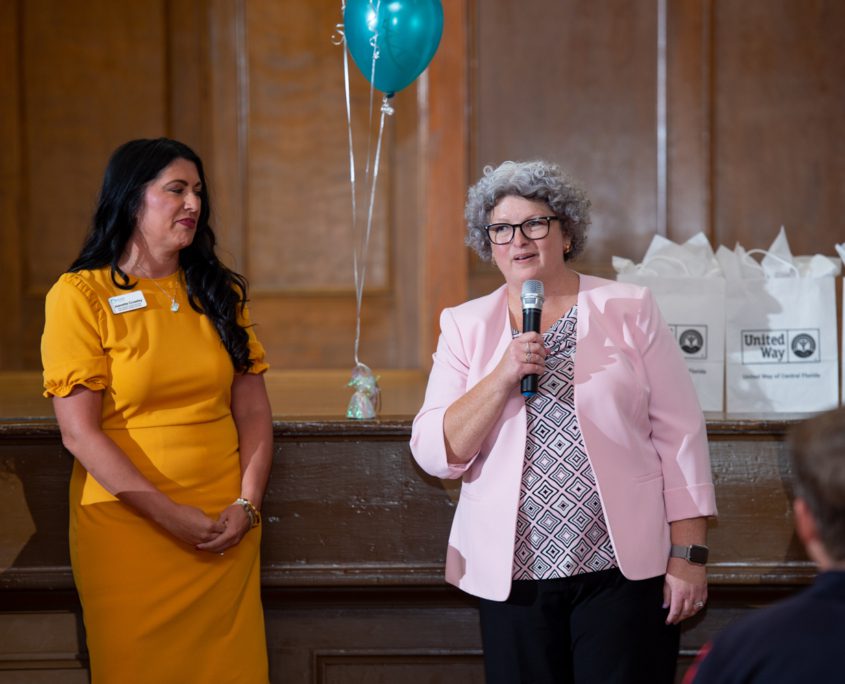 Polk County Public Schools Philanthropist of the Year: Mrs. Penny Lundquist from Brigham Academy
With 11 years of partnership with United Way of Central Florida, Mrs. Lundquist started her involvement as part of our Young Leaders Society making her way to be part of our Leadership Giving Association. She told us yesterday that she got inspired to give to UWCF thanks to Mr. George. She worked at the first Publix Store with him and was instilled early in her career with the importance of giving back.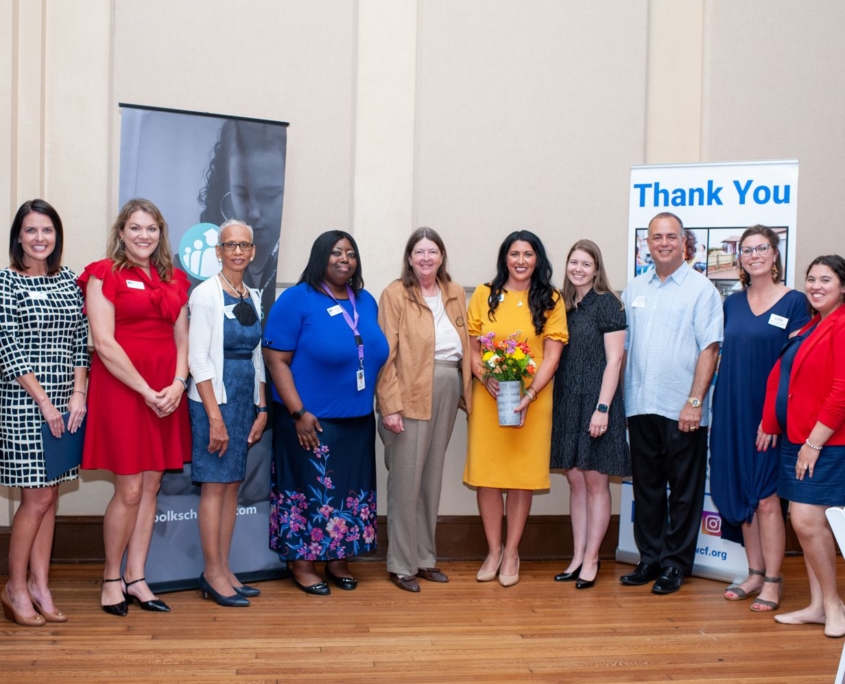 UWCF Employee Coordinator of the Year: Jeanette Crowley from Public Relations & Strategic Partnerships
Jeanette is the Senior Coordinator of Strategic Partnerships at Polk County Public Schools. She serves as the District United Way Campaign Coordinator and has held this role for the past 7 years. She is always coming up with creative ideas on how to engage her team members. In the past she has conducted chili cook offs, door decorating contests including Chick-fil-a breakfasts and the most recent one, the donation of her hair. This past January, with the help of Glam Color Bar, she hosted the Keep it or Cut it event, where she donated 11 inches of her hair and raised $2,110. This year she led Polk Cunty Public School's Employee Giving Campaign raising over $75,000! It is through the dedication of employee coordinators like Jeanette that we are able to truly improve lives and strengthen our communities.