UWCF PAD Best Practices
United Way of Central Florida wants to help you celebrate your success on Publix Appreciation Day. We have several best practices that will help recognize and appreciate as many Publix Associates as possible for all they have done to support United Way in their communities.
Publix associates collectively create major impact for local United Ways within their 7-state footprint. Annually, we go the extra mile to express gratitude for all Publix associates. They truly LIVE UNITED by giving their time, talents and treasures to our local communities. Below are a few ideas of how we can say THANK YOU! Please make sure all methods of appreciation are planned with Publix Coordinators.
Press release
BoCC proclamation/resolution
Billboard signage
Social media platforms

Handle: @Publix
Hashtag: ##UWlovesPublix

Commercials
Breakfast or luncheon for Publix store managers, employee coordinators and AOLs

Special gift for store managers, employee coordinators and AOLs
Awards

Leadership lapel pins with personal thank you notes
Positive picketing/Pep rallies or flash mobs with United Way staff, board members, campaign cabinet and partner agencies
Wear Publix green attire and "I love Publix" pin
Goodie bag per coordinator. Treats could include United Way backpacks, water bottles, cookies, candy, etc.
"Thank You" posters for the break room
Table tents to be placed in break room for all Publix associates to enjoy
Balloons for break room
Treats for all Publix associates
Leadership lapel pins with personal thank you notes
"Thank You" stickers
Wear Publix green attire and "I love Publix" pin
Stores:
Decorate shopping carts with signage and other celebratory items
Partner agencies, local United Way staff, board members and other engaged United Way volunteers could visit local stores. This person would express gratitude to the employee coordinator(s) and leave goodies for
all Publix associates
Positive picketing with hand-held "Thank You" signs. The lead person from each group would express gratitude to the employee coordinator(s) and leave goodies for all Publix associates
Publix Campaign Appreciation Day Social Media Graphic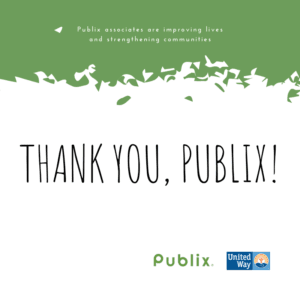 Click here to download