United Way of Central Florida CEO Accepts New Position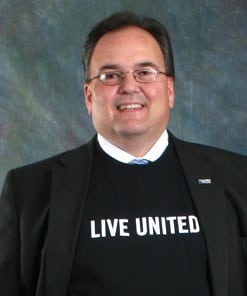 LAKELAND, Fla. | After more than three years as President and CEO of United Way of Central Florida, Alan H. Turner II is headed back to his home state of New York.
Turner has recently been named the new Regional Chief Executive Officer of the Western and Central New York Region with the American Red Cross.
According to Don Selvage, United Way of Central Florida Chairman of the Board, Turner's decision to leave the organization for a new challenge is accepted with regret but understanding.   
"Alan has served United Way of Central Florida with consummate professionalism," Selvage said. "Under his leadership the organization has achieved and exceeded its mission of improving lives and strengthening our community. We will miss his passion and commitment to the Tri-County area. All of us extend to Alan, his wife Stephanie, daughter Sara and son Andrew the very best as they head back to New York for this exciting new opportunity."
Serving as President and CEO, Turner has lead the United Way of Central Florida since July 2015 to fulfill its mission to improve lives and strengthen our community in the areas of education, income and health within Polk, Hardee and Highlands Counties.
"It has been a blessing to have worked with such a dedicated staff, board, partners and volunteers," Turner stated. "We have increased the number of donors, the number of businesses running a United Way workplace campaign, the dollar amounts raised, the number of individuals volunteering and, most importantly, the number of people receiving help. I am very proud of the work we have accomplished and I know the positive momentum we have created will continue."
In 2017, the United Way of Central Florida celebrated a campaign increase for the third consecutive year and its largest campaign in the organization's history by raising more than $9.37 million.
During the 2017 campaign, Florida was impacted by Hurricane Irma. United Way of Central Florida created the Hurricane Irma Relief Fund, raising more than $460,000 – in additional funds to the campaign – and activated the staff to immediately help hundreds of local families and individuals.
UWCF created its first Student United Way and kicked off the new Destination: Graduation program at Polk State College during Turner's tenure. He has worked with board leadership to complete a five-year strategic plan, Vision 2020, and brought his knowledge of social media to increase the organization's presence on multiple social media outlets and initiated a United Way of Central Florida podcast, "Talk United."
Turner has also worked with United Way Worldwide and other United Ways from across the state, country and globe. He is currently serving on United Way of Florida state association's Board of Governors and, in June 2016, he co-facilitated and taught the Overview of United Way program at United Way Worldwide in Alexandria, VA. Also in 2016, Turner was chosen to participate with United Way Worldwide's Advanced Leadership Program.
With nearly 20 years of experience, Alan's dedication to the nonprofit sector has resulted in the raising of more than $150 million that has been invested in various health and human service programs and organizations. His efforts have positively affected the lives of more than four million individuals and families.
Before moving to Lakeland, Turner served as President and CEO for the United Way of Southwest Alabama in Mobile, Ala. and as the President and CEO for the United Way of West Tennessee in Jackson, Tenn.
In previous positions, Turner has served as the Executive Director of the Association of New York State Youth Bureaus and within the New York State Assembly. He worked with several Assembly members, including some from the Syracuse and Rochester area.
Originally from Upstate New York, Turner will be based out of Syracuse, N.Y. In his new role with the American Red Cross, Turner will lead a team primarily focused on the Red Cross core mission delivery, fundraising and will be the face of the Red Cross for the media, donors and their communities. He will manage the community resilience programs, working with community partners to ensure that the communities build local capacity to prepare for, prevent, respond and recover from disasters. Turner will also ensure that volunteers, youth and young adults are engaged and retained into the service delivery plans.
The Western and Central New York Region serves 26 counties, including the cities of Binghamton, Buffalo, Corning/Elmira, Rochester and Syracuse. There are five local chapters and seven Blood Donation Centers.
"I feel honored to have been selected to serve in this capacity and I am excited to be joining a great team in Western and Central New York," Turner said. "I am looking forward to learning more about the Red Cross programs, as well as the blood collection operations that are throughout the region.
"My family and I are excited about this next chapter in our lives and looking forward to being back in New York state."
Turner's last day with the United Way of Central Florida will be October 26th and plans to start his new position with the Red Cross in early November. UWCF Board of Directors will soon create a search committee to find a new leader for the organization.