Finding the Tools to Start Over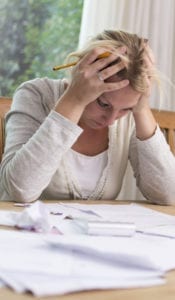 At 52 years old, Denise, a mother of five, couldn't believe the situation she was facing.
When Denise's husband relapsed with his drug addiction, she had no other choice but to leave and take her oldest daughter, Hannah, with her.
Facing homelessness, Denise and Hannah stayed with a friend for a short time in Bartow. At church one morning, a parishioner heard about Denise's situation and knew who could help.
United Way of Central Florida helps families find and maintain financial stability by investing in financial education services around Polk, Hardee and Highlands counties.
Financial education classes help individuals and families improve their credit rate, reduce debt, save for emergencies and earn job credentials that increase household income.
When families find and maintain financial stability, it reduces crime, improves the likelihood that children will succeed in school and increases the opportunities for car and home ownership.
Women's Care Center of Bartow partners with UWCF to offer a transitional living center for women.
"The Women's Care Center gave my daughter and me a safe place to regroup," Denise said.
One of the most valuable skills Denise said she learned was budgeting.
"The Staff was there with financial classes and our weekly budgeting and savings check-ins," she said. "They were a valuable tool that I'm still using today."
Thanks to these services, Denise has two jobs, is saving more money and even finds time to volunteer.
"It afforded me the opportunity to give back," she said. " With the support and help of Women's Care Center and UWCF, I am on my own again, stable and moving forward in a very positive direction."