Crystal Lake Elementary Reaches Important Milestone; Becomes UCF-Certified Community Partnership School
News Release:
Jason Geary, Senior Director of Communications,
Polk County Public Schools, 863-457-4708 ext. 829,
jason.geary@polk-fl.net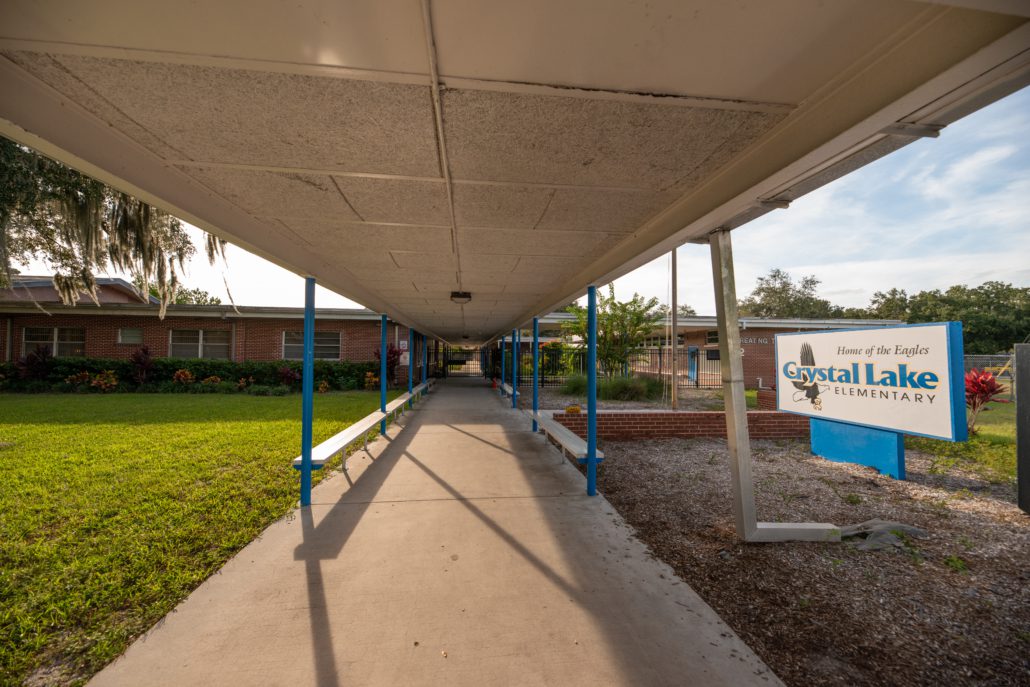 Crystal Lake Elementary is celebrating a major milestone after becoming a UCF-Certified Community Partnership School.
"There are only 14 schools in Florida to achieve this distinction," said Andrea Hagan, Crystal Lake's community partnership school director. "The University of Central Florida sets the bar extremely high, and normally this rigorous evaluation process takes five years to complete. Crystal Lake Elementary was able to finish one year early."
The certification demonstrates Crystal Lake Elementary's commitment to providing high quality programs and upholding core components of the Community Partnership Schools™ model.
In 2017, Crystal Lake Elementary was selected to host the first community partnership school program in Polk County. Following a model set by the University of Central Florida, Crystal Lake Elementary serves as more than a place for academics. The school also offers students, their families and the surrounding neighborhood access to a variety of education, healthcare and social service resources.
Crystal Lake Elementary's available resources include a community health center on campus, where Central Florida Health Care provides primary care services to both students and the community.
Crystal Lake Elementary also offers students access to tutoring and expanded learning opportunities before, during and after school. Adults can also take classes and workshops on a variety of topics, such as health and wellness, budgeting, computer literacy, and more.
The school also has established a food distribution program and pantry. More than 12,000 individuals over the last two years have received food support through Crystal Lake Elementary.
Please see the attached summary for more details on how the school is making a positive impact on the community.
"It's been exciting to see how Crystal Lake Elementary is transforming under the community partnership school model," said Pat Barnes, PCPS regional assistant superintendent who oversees Crystal Lake Elementary. "Families can reach out with their needs, and there's a coordinated effort to find solutions."
Crystal Lake Elementary, A UCF-Certified Community Partnership School would not exist without the dedication of community groups coming together to pledge their assistance.  The core partners include:
Polk County Public Schools
Central Florida Health Care
Heartland for Children
Southeastern University
United Way of Central Florida
Polk Vision also works closely with these partners to align resources to best support students, families and residents.
"The certification demonstrates that the implementation of the community partnership school model at Crystal Lake Elementary has fidelity to a rigorous model with comprehensive standards," said Teri Saunders, chief executive officer with Heartland for Children.
"It took partnership, perseverance, hard work and positive leadership to achieve this certification," Saunders said. "I am extremely proud of the team for this accomplishment and grateful for their commitment and hard work."
Rod Crowley, chief operating officer with United Way of Central Florida, described the certification as a great foundation to build upon.
"This ambitious project is only a few years in the making, and there are still many challenges ahead," Crowley said. "Our certification shows that we're moving in the right direction, but we need to keep finding innovative ways to secure resources, expand services and meet the needs of the Crystal Lake community."
Those who wish to offer donations or inquire about partnership opportunities with Crystal Lake Elementary can call (863) 499-2966 ext. 433 or e-mail ahagan@heartlandforchildren.org.
Learn More about our Community Partnership School Initiative: https://uwcf.org/initiatives/communitypartnershipschool/