From the Desk of Christina Criser Jackson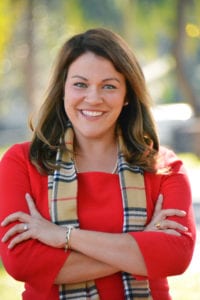 United Way of Central Florida continues to disrupt the typical nonprofit model by amplifying donor dollars with local matches, convening partners to improve efficiency and brokering only those services that produce the best possible return on investment in the areas of most critical need.
We are making great strides in our fight to disrupt the cycle of poverty in Central Florida.
This past May, we were happy to see the opening of the Central Florida Health Care Crystal Lake Community Partnership School Clinic. The collaboration with Polk County Public Schools and other local nonprofits is now able to improve the health, education and financial stability of our Central Florida residents.
Our Safety Net Impact Team hosted our first End Hunger Initiative meeting in June. By convening partners, brokering collaborations and amplifying funds, UWCF, Feeding Tampa Bay and local partners are working together to eliminate food insecurity in Polk, Hardee and Highlands counties. No one in our community should go to bed hungry!
These are just two examples of all of the projects we have been working on. Staff, volunteers and partners are working tirelessly to improve lives and strengthen our community. Board and committee members are actively working to find creative solutions to the issues that matter most to our neighbors, broaden our impact and make the most of your investments.
Under Greta Dupuy's leadership as Board Chair, we are expanding partnerships throughout Central Florida and strengthening our strategic goals. She is enthusiastic about promoting UWCF services and partnerships.
Resource Development Chair Tip Fowler is encouraging us to think differently and help companies find the intersection of community needs and business imperative. He is passionate about finding new ways to help you directly engage in philanthropic initiatives.
As we prepare to kick off another campaign, we continue to look at new, innovative ways to amplify your dollars and take action to fight for everyone in our community, and we need you! The issues many face in our community are alarming, but these needs will only be solved in a united way. Join the fight at our 2019 Campaign Kickoff on August 21 at Publix Field at Joker Marchant Stadium. You and your family are invited to join us for a fun night at the ballpark to celebrate another year of working to move the needle on the most pressing needs in Polk, Hardee and Highlands counties.
I would like to congratulate the following staff on their new roles:
Jan Askey – Executive Assistant

Danielle Baker – Director of Philanthropy

Jess Garcia – Resource Development Manager

Dale Stills – Senior Director of Resource Development

Ansley Woods – Vice President of Resource Development
I would also like to welcome our new team members:
Christy Apisa – Resource Development Manager & Hardee County Coordinator

Samika Brown – Master Teacher at Family Fundamentals

Katherine Fitzwater – Vice President of Marketing & Communications

Sarah Beth Rogers – Highlands County Area Coordinator

Deanne Shanklin – Resource Development Administrative Assistant
I am humbled by your generosity and dedication to our community as well as the personal support, advice, encouragement and recommendations. Thank you for sharing your time and talent with our community and for allowing UWCF to be the foundation of your philanthropic endeavors. We look forward to sharing additional ways you can engage with our initiatives and make a meaningful impact.
Thank you for continuing to Live United.
Christina Criser Jackson