A Message from COO Rod Crowley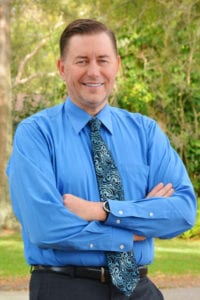 Our community and staff are filled with "DIAMONDS!"
100 miles deep in the Earth, a layer separating our hospitable exterior from the molten core, known as the mantle, is where diamonds are made. Temperatures boil above 2,000 degrees Fahrenheit and pressure exceeds 725,000 pounds per square inch.
Diamonds are not only formed under the heat and pressure of the Earth's gravity but can form during a collision between Earth and an asteroid. The carbon atoms bond together to form crystals under this high pressure and temperature. Each carbon atom bonds with four other carbon atoms, creating the diamond's renowned strength – as the world's hardest substance.
So, we are all under extreme heat and pressure. We have all been struck by the COVID-19 "Asteroid." We all also bond daily with four other "atoms" as we navigate the COVID-19 pandemic. Daily we see high heat, stress, severe impact, and pressure which literally converts us into DIAMONDS! Stress, pressure, heat, bonding, it is all part of being true diamonds. United Way of Central Florida cannot be a truer example of what a diamond exemplifies.
I am still new here, but I see daily an unlimited resilience. In a few short months, I have never seen a harder working, dedicated, and selfless group of volunteers, board members, staff, and partner agencies as I have at United Way of Central Florida. I am so appreciative and thankful that we have the respect we have.
The collision of the COVID-19 "ATOM" is creating an unlimited amount of DIAMONDS! As a result of COVID-19, we now have the heat and pressure of lost revenue, heat and pressure of new CARES programs with unknown expectations, heat and pressure of maintaining outcomes with fewer resources, and the heat and pressure of marketing to an unknown audience.
We are beyond grateful and thankful to every funder and supporter of United Way of Central Florida. We will continue to forge forward through molten lava, metals, rock, and earth. The Earth's (UWCF) core is what will always make us a DIAMOND, indestructible, and intensely made.
Although the intense heat and never-ending pressure of the earth's core, along with the impact of an asteroid are unbearable, United Way of Central Florida is persevering. Persevering beyond yours or anyone's imaginable expectations.
We are fortunate to have a foundation that grounds us in SERVING individuals and our COMMUNITY. We are extremely thankful that our staff can adapt and adjust during disaster and chaos. They don't only adapt, they overcome the almost unimaginable challenges.
We "IMPROVE LIVES AND STRENGTHEN OUR COMMUNITY" every day. To be included in this incredible organization is a blessing.