United Way working to help tornado victims in Kathleen
United Way of Central Florida is assisting tornado victims in Polk County after the devastating twister touched down in Kathleen on October 18.
United Way of Central Florida is part of the Polk County Emergency Management collaboration, along with the Polk County Sheriff's Office, Polk County Board of County Commissioners, Polk County Public Schools, City of Lakeland, American Red Corss and more.
Polk County Emergency Management is responsible for planning and coordinating actions to prepare, respond and recover from natural or man-made disasters in Polk County. It manages the County Emergency Operations Center, which is the central coordination facility for all disasters. It also plans and conducts emergency training and serves as a liaison with state and federal emergency agencies.
Currently, 24 homes have been devastated or severely damaged.
Because the tornado was not classified as a catastrophic event, our community does not qualify for federal or state grants. Some companies may qualify for Small Business Association loans but that is the only anticipated government support. The community will depend on private support.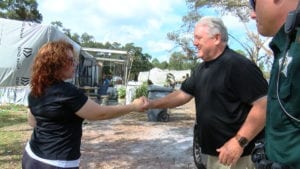 United Way staff, along with Polk County Sheriff's Office deputies, are going door to door to inform victims about what services are available and how to identify fraud.
The Mount Tabor Food Pantry in Kathleen, which was destroyed in the tornado by contributing $600 to cover the cost of four $150 weekly food deliveries from Feeding Tampa Bay. A refrigerated train car has been donated as a temporary food pantry. UWCF and our partners will help stock the pantry until the church is repaired.
UWCF will also provide assistance with insurance deductibles, hook up for electricity and other storm related expenses for those who meet case management requirements.
United Way's 2-1-1 information and referral service is up to date on the services being offered to tornado victims. If you need assistance, text your zip code to 898-211 or dial 211.