2023 Publix Appreciation Week Toolkit & Guide
United Way of Central Florida is excited to partner with local United Ways across the southeast in celebration of United Way Worldwide's No. 1 Global Corporate Leader, Publix Super Markets, Inc.
During the week of March 20 to 24, We will extend our appreciation to Publix associates throughout all 8 states in which they live and work for their commitment to improving their communities.
Below is a guide for how you can celebrate one of our largest supporters worldwide throughout your local Publix Appreciation Week.
As you begin to plan your Publix Appreciation Week events, here are a few ideas for ways you can show some extra love to our Publix Associates this year:
Plan events throughout the week. Events could include: store deliveries of goodies, a physically distanced drive-thru celebration or even a virtual event. Get creative!
Plan a digital celebration. Highlight Publix's partnership with your local United Way through blog and social media posts. Posts can include spotlights of key supporters, the history of the partnership and stories of how Publix has supported your local community. Not sure what to post? No need to stress. UWCF will provide templates with content you can share. And make sure to include our hashtag, #UWlovesPublix.
Spread the news. Does your community know that Publix Super Markets, Inc. is the largest Global Corporate Leader in the world? That's a big deal! Our team will provide a blog post and social media templates for you to share on social media.
Local United Way listing by Publix Division
Lakeland – 3/20
Jacksonville – 3/21
Atlanta – 3/23
Miami – 3/23
Charlotte – 3/24
Please refer any questions to Emily Cox, Director of Philanthropy, at emily.cox@uwcf.org or 863.648.1500 x276
Send a candy gram to your local Publix Associates!
Handout wristbands with #UWLOVESPUBLIX.
Create photo props with the Publix campaign logo.
Assemble your items in a gift bag for associates.
Express your gratitude on social media and with printed materials
Publix Appreciation Week post for Instagram & LinkedIn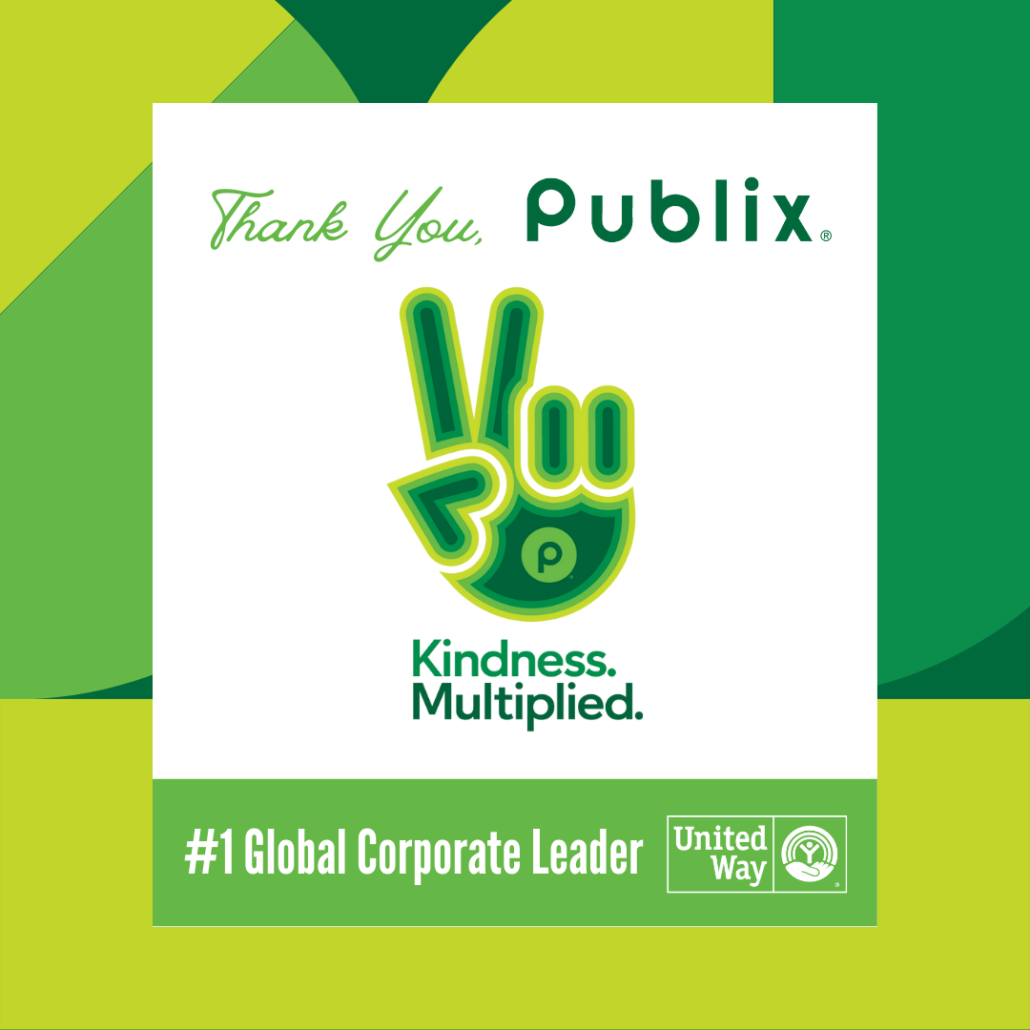 Click here to download
Click here to edit in Canva
Publix Appreciation Week post for Facebook & Twitter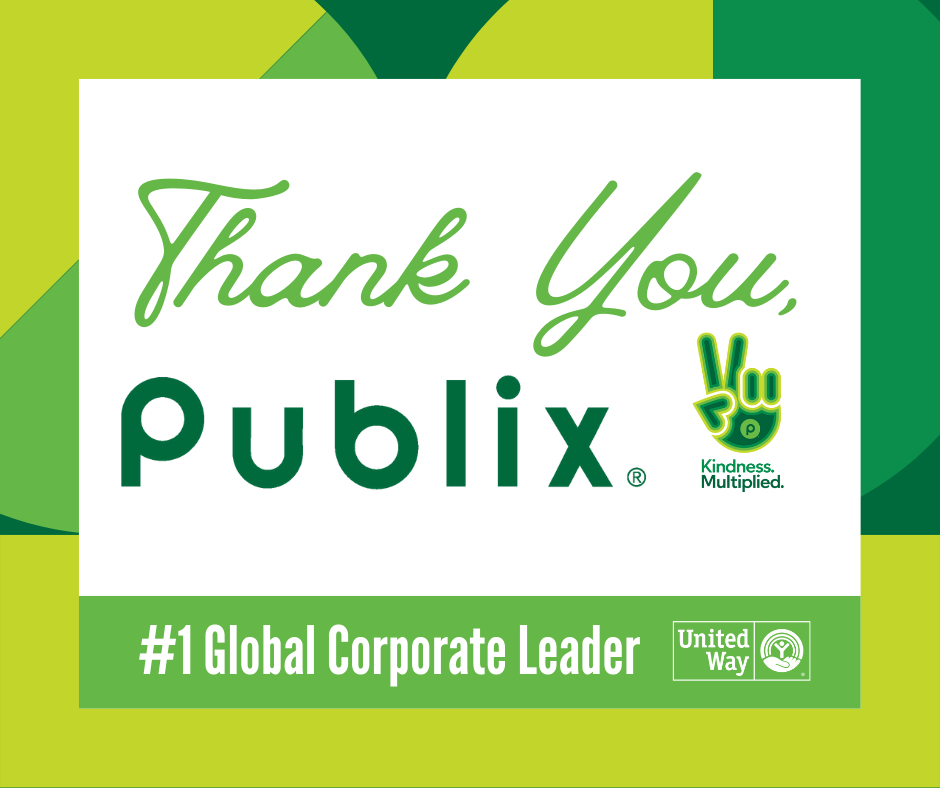 Click here to download
Click here to edit in Canva
Photos of Publix Associates
Create your own local "thank you, Publix" video
If you would like to create your own local "Thank you Publix" video, you can do that as well! Below is an example of what a local video could look like.
Message from UWCF President & CEO, Christina Criser Jackson and Greta Dupuy
Message from United Way CEO, Angela F. Williams
UWCF Publix Appreciation Day Best Practices 
United Way of Central Florida wants to help you celebrate your success on Publix Appreciation Day. We have several best practices that will help recognize and appreciate as many Publix Associates as possible for all they have done to support United Way in their communities.
Click here to get more information!
Kindness Multiplied Logo
Click here to download PNG and EPS versions.
Publix Company Store
Visit the Publix Company Store online to get your "United for Good" themed items. A portion of sales go to United Way.
Social Media
Handle: @Publix
Hash Tags: #UWlovesPublix